News and Updates
---
Updated government regulations
TAG Alliances® is one of the largest alliances in the world. It distinguishes itself as one of the few multidisciplinary alliances for accounting firms. Composed of TIAG® (The International Accounting Group), an alliance of independent accounting firms; TAGLaw®, an alliance of independent law firms; and TAG-SP®, a multidisciplinary alliance of strategic partners, TAG Alliances serves the full business needs of its members' clients in over 105 countries.
We have the pleasure to be invited to join this alliance as the sole member in Hong Kong region since 2007.
The alliance has been recognized by Accountancy Age as one of the top three accounting alliances in the world. This is the tenth consecutive year that TAG Alliances has been ranked in this elite position.
The rankings include 20 associations and alliances, and are based on the collective revenues of each organization's member firms. TAG Alliances is prominently featured in Accountancy Age's report, which announces the 2021 rankings and examines the status of international networks, associations, and alliances in a time of continuing global economic uncertainty. This is the eighth consecutive year TAG Alliances has received this prestigious ranking.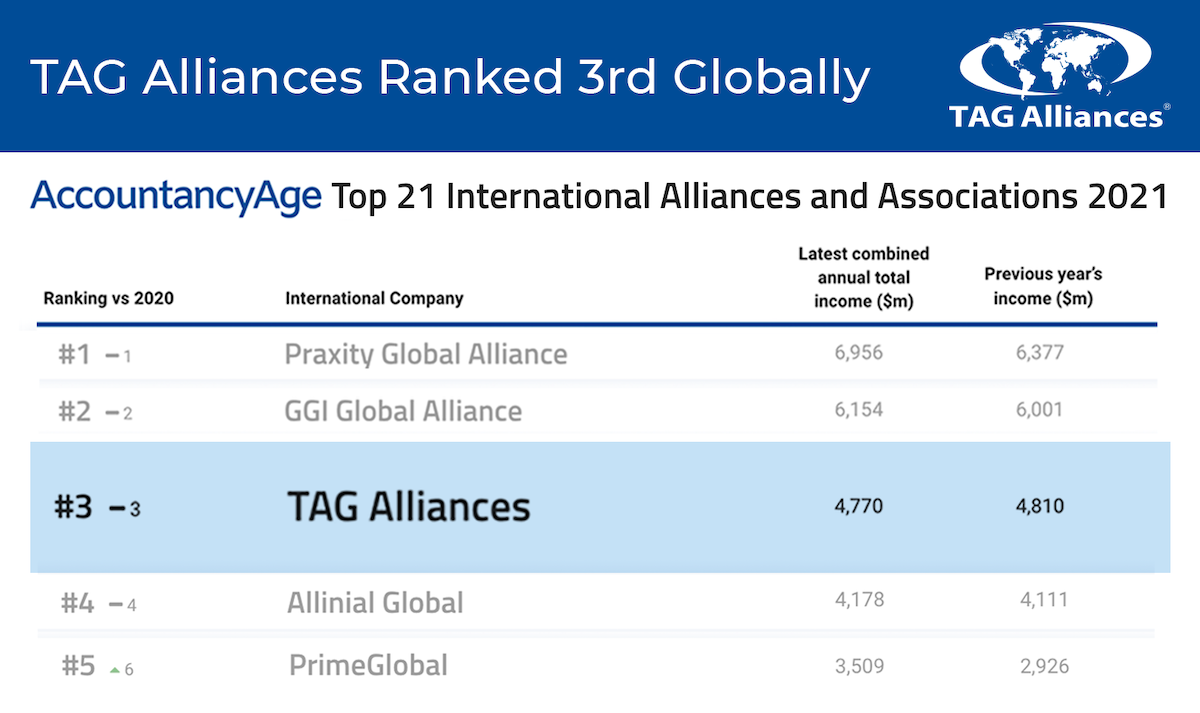 On 24 February 2021, Financial Secretary, the Honourable Paul Chan Mo-po, delivered the budget speech. In his 2021-22 Budget, he laid out a series of economic relief measures.
Highlights of the budget
One-off measures:
$5,000 electronic consumption vouchers will be issued in instalments to each eligible Hong Kong permanent resident and new arrivals (aged 18 or above) to facilitate and stimulate local consumption.
100% tax reduction subject to a cap at $10,000 per case of salaries tax, and tax under personal assessment for 2020/21.
100% tax reduction subject to a cap at $10,000 per case of profits tax for 2020/21.
Rates concession for residential properties for 2021/22 subject to a cap of $1,500 per the first two quarters, and $1,000 per the remaining two quarters.
Rates concession for non-domestic properties for 2021/22, subject to a cap of $5,000 per the first two quarters and $2,000 per the remaining two quarters.
An extra allowance, equal to half a month of the standard rate of the Comprehensive Social Security Assistance (CSSA) payments, Old Age Allowance (OAA), Old Age Living Allowance (OALA) or Disability Allowance, will be provided to social security recipients. Similar arrangements will apply to the Low-income Working Family Allowance (LIFA) and the Work Incentive Transport Subsidy.
A subsidy of $10,000 will be granted to each residential electricity account.
Payment of examination fees for candidates taking the 2021 Hong Kong Diploma of Secondary Education (HKDSE) Examination.
A concessionary low-interest loan, 100% guaranteed by the government, will be provided for unemployed individuals. The application period will be open for 6 months. The loan is set at a maximum of $80,000 with a repayment period of up to 5 years. There is a moratorium on principal repayment for the first 12 months. A reimbursement will be offered for the interest paid after the loans are repaid in full as scheduled.
The application period for 100% government-guaranteed, low-interest loans, will be extended for enterprises to the end of this year. The maximum amount is at $6 million, and the repayment period and duration of principal moratorium are extended.
An amount of $1 billion is dedicated to drainage repair works in over 3,000 old buildings.
$6.6 billion is allocated to create around 30,000 "time-limited" jobs.
Profit tax
The profits tax rate for the first HK$2 million of profits of corporations / unincorporated businesses will be lowered to 8.25% and 7.5% respectively. The remainder of the profits will remain at 16.5% and 15% respectively. Only one entity within a group can benefit from the above reduced rates.
Salaries tax
The standard tax rate remains unchanged.
During the potential outbreak of COVID-19 in the world, we do our best in adopting certain policies in our office to minimize the threat of the virus spreading in our community:
Implementation of home offices for the audit department. (Please contact our audit staff by email directly to avoid any delay in response for any audit enquiries.)
Mandatory quarantine measures for at least 14 days for staff who had travelled overseas.
Cancellation of all overseas business trips.
Implementation of video conferences to minimize physical contact.
Implementation of infection control procedures inside the office.
The measures will be adjusted regularly in light of daily reports and government announcements, and shall be updated in our website and/or communicated via email.
Our administrative and company secretarial departments will remain in the office to continue maintaining our expert services.
We can provide assistance regarding staff, policies, and procedures for office arrangements during the current situation.
Let's work together in the fight against the coronavirus.